Your carpet is worn and now you are considering new wood flooring. Before you go to the expense of wood flooring, consider engineered flooring or Luxury Vinyl Plank as options. I've briefly broken down the pros and cons of each. Whichever option you consider, I highly recommend viewing a sample in your home before your purchase. Photo credit – https://endicottsflooring.net/lvp-lvt
Solid Hardwood: Solid hardwood is 100% natural with each plank crafted from a single solid timber piece that is air-dried or kiln before sawing. Many homeowners desire solid hardwood for their home flooring due to its authenticity, durability, and timelessness. It ranges from traditional hardwood to more trendy colors to naturally hand scraped wood.
Solid hardwood is moisture absorbent; therefore, it is not recommended to be installed in humid and moist areas of the home. Hardwood typically costs $6 to $18 per square foot, including installation.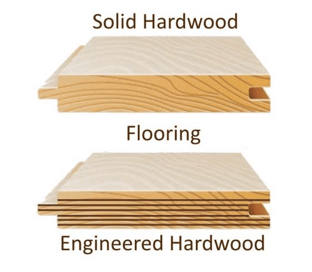 Engineered Hardwood: Engineered hardwood is made up of different layers. The upper and bottom layer is usually 100% natural wood while the middle is built from a core of five to seven layers of plywood that are crisscrossed in various directions. Engineered hardwood also comes in a wide range of designs and styles. Engineered hardwood is a bit better than solid hardwood in terms of waterproof. Depending on the grade, it can cost $8 to $25 per square foot.
Luxury Vinyl: Luxury Vinyl planks are man-made flooring materials that are manufactured. They are designed to have the look and feel of natural hardwood with distinct markings and colors replicating hardwood design. Thanks to advancement in technology, an ordinary onlooker will have a hard time distinguishing between natural hardwood flooring and luxury vinyl planks flooring. Luxury vinyl comes with sticky backing and can be glued straight to the floor surface. The material is moisture resistant so it can be installed in the kitchen, bathroom and basement. The cost is between $2-$11 per square foot including installation.
I'm having LVP installed in my home soon. I've been really impressed with the improvements of LVP and tile. Will keep you posted.
Thanks for reading!
Rebecca
Whether you're looking for help with paint selection, home accents, interior design or a renovation,RR Redesign is here to help. We offer floor to ceiling services that are budget friendly and sure to have you fall in love your home again.