So, you're looking at your old sofa and know it's time to order a new one! Before you go to the showroom, there are important steps I recommend that you take. Keep in mind it's a long-term commitment and you want to choose the RIGHT sofa for you so that you can keep it for a long time.
Here are some factors to keep in mind:
Size of sofa (length and width)
Seating (how many seat cushions would you like?)
What type of arm? (track, panel, sock, english or pleated are some to think about)
What type of base do you want? (feet or skirt) When figuring out the length and width, use a tape measure to lay it out and then use blue tape to mark the lines. How does it look? Do you have enough room without feeling crowded? You want your sofa to comfortably fit in your space.
How deep do you want your cushions? Measure your current cushion and go from there. How many seat cushions do you want (two vs. three)?
What kind of sofa back would you like? Attached cushions or sewn in?
What kind of fabric? I suggest something versatile with not too much pattern. There are different grades of fabric which will determine the price. If your sofa is going to be in a high traffic area and/or you have children, please consider an extended warranty for stains and tears. Adding piping to the cushions adds a tailored look that's timeless. You may want to add other embellishments such as nail heads. Choose what you love!
You're ready for the showroom! When you visit the showroom, sit on the sofa. Is it too firm? Too soft? Memory foam? This is called the butt test!
Bring inspiration with you such as photo's of your coffee table and/or accent chairs, paint color, pillows etc.

Decorator's choice for manufacturers: King Hickory, Kincaid, La-Z-Boy, Broyhill and Bassett.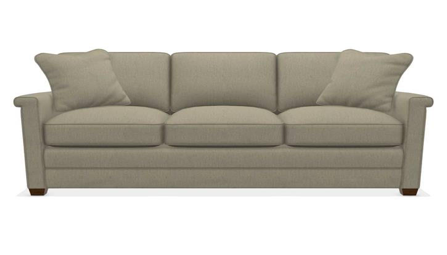 Photo Credit La-Z-Boy
If you can decide on as many of the options as possible before you visit the showroom, the process will go much smoother and you will end up with a piece of furniture that you will love for a long time.
Whether you're looking for help with paint selection, home accents, interior design or a renovation,RR Redesign is here to help. We offer floor to ceiling services that are budget friendly and sure to have you fall in love your home again.