Wallpaper is back and easier than ever to use for a feature wall or an entire room. Nothing adds more personality to a room than wallpaper. Let me tell you the selections available today are not your grandmothers' wallpaper. Today's wallpaper industry offers wallpaper for any homeowner's project. I am going to help you with two of the most common papers- peel and stick and traditional paste wallpaper. Peel and stick wallpaper is relatively new to the interior design world, and is the easiest type of wallpaper to remove. It's also the easiest to apply, requiring virtually no prep work or clean up. … This type of wallpaper is generally easier to remove than traditional paste wallpaper.
Application
When it comes to ease of application, wallpapers that are advertised as removable don't need any of the same adhesives that are needed to apply traditional wallpapers, which makes the application process much less messy. By nature, removable wallpapers can be stuck, unstuck and restuck multiple times without any additional pastes or adhesives. However, in my experience, most clients are not aware that the same is true for traditional wallpapers. You can adjust them during the installation process.
Removal
Wallpapers that are advertised as removable are created in a way that makes them easy to peel off, at any future date. And while many people still think that traditional or non-removable wallpapers are difficult to get off and can damage your walls, the truth is this just isn't the case anymore. Manufacturers of wallpapers and adhesives today make it easy for anyone to remove their wallpaper, at any time. That's assuming the walls underneath have been properly prepped and primed and the right adhesives were used to apply and remove it.
Mobility
Many wallcoverings are removable, but not all of them are reusable. Advertised-as-removable wallpapers are both removable and reusable, and as a homeowner (or renter) this can definitely be a plus. One of the long-standing frustrations with wallpaper lovers has always been that you'll want to take it with you if you leave. You haven't always been able to do that, but removable options have made it possible.
4. Budget

Good-quality wallpapers can be pricey. No matter what the type, wallpapers vary drastically in price. Generally speaking, paper-backed wallpaper products are less expensive. That's because they are made with wood pulp, but this makes them harder to remove and always non-reusable. Any wallpaper that is nonwoven or fabric-backed will most likely be more expensive, regardless of whether a product is advertised as removable or whether it is simply removable based on its materials. Because of the less messy application process, self-adhesive wallpapers often give people the confidence to install wallpaper themselves. They don't have to worry about adhesives that can be tricky to apply and use. Having the opportunity to install wallpaper yourself means saving the cost of professional installation, which can be substantial.
Having said that, the benefits of a wallpaper installer extend far beyond just dealing with the sticky adhesives. An installer will also make sure that your walls are properly treated beforehand, that your wallpaper will be applied seamlessly to last and will ensure easy removal in future. And if you're dealing with nontraditional-shaped walls, it can be tricky to align the paper properly — no matter what type of wallpaper you choose. This is especially true if you're not experienced at installation. As a designer, I feel that the cost of installation serves many purposes, and I always encourage my clients to get their installed by a wallpaper professional.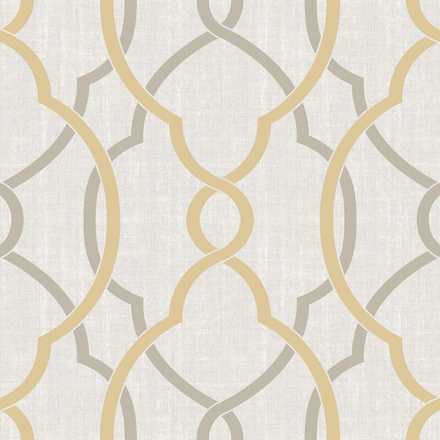 Application Types:
Non-Pasted: This wallpaper does not come prepared with adhesive so you'll need to use paste to apply it to your wall. Though the pasting process can be messy and particular, it tends to produce the most long-lasting results.

Pre-Pasted: Just add water and this wallpaper is ready for application. No messy paste required. Though quick and easy, this application style unfortunately doesn't last as long as the others.
Self-Adhesive: Also called peel and stick wallpaper, self-adhesive wallpaper acts like a sticker; just peel off the backing and apply it to the wall. If you redecorate often, it's easy to remove and replace.
Materials:
Vinyl: This is the most common type of wallpaper because it is easy to hang and remove, is the best option for damp areas, and often comes pre-pasted.
Paper: Colors show up beautifully on paper wallpaper, but beware of scratching and tearing as this material is the most delicate.
Fabric: Considered the highest quality wallpaper, fabric wallpaper is difficult to hang. It usually doesn't come pre-pasted. Be extra careful about smoothing out air bubbles when applying, so the fabric doesn't wrinkle.
Grass Cloth: Made from natural fibers including grass cloth, hemp, jute, reed, or arrowroot, these wallpapers don't require matching, which makes them easier to hang.
Buying Wallpaper
Determine how much you need. Measure the height and length of each wall to determine the square footage. Note the square footage on each roll of the paper you have selected and use these numbers to determine how many rolls you should buy. Often, wallpaper is priced by "single rolls", which tend to cover between 28 and 32 sq. ft., but sold by the "double roll", which cover between 56 and 64 sq. ft. be sure to pay attention to how much square footage each roll can cover – sometimes one roll of one wallpaper can cover only half the area one roll of a different paper can. When in doubt, always buy extra to account for mistakes.
Tip!
Wallpaper comes in batches. There is no guarantee that wallpaper from two different batches will be exactly the same color. You should always buy extra from the same batch for mishaps and repairs.
Traditional wallpaper with any quality in material and design will start around $9/SF and can sell for as high as $40/SF (some even higher). Peel and stick removable wallpaper starts at between $8-$10/SF.
Whether you're looking for help with paint selection, home accents, interior design or a renovation,RR Redesign is here to help. We offer floor to ceiling services that are budget friendly and sure to have you fall in love your home again.